Our Methodology
Building Globally Admired Companies and Organizations from Asia
How We Help Build Globally
A

dmired Companies and

O

rganizations
1.We work with top management to identify critical issues and select key people to address the issues applying our unique methodologies
2.We work with leaders to develop vision that inspires the people and organization to continuously challenge new heights
3.We help companies develop both market and non-market strategies to gain sustainable competitive advantages
4.We work with CEO and board to address unprecedented number of global uncertainties, crisis and disruptions that organizations face today
5.We work with executive team to craft detailed scenarios and scripts to execute the strategies to ensure successes
Case 1: Applying the WCG

M

ethod® to

D

ouble Revenue in 5 Years
Leading Beauty Care Company
We work with top management

t

o identify critical issues and

s

elect key people to address the

i

ssues applying our unique

m

ethodologies
For example, we started working with Asia's largest beauty care company when the company had suffered almost a decade of quite flat sales and declining profitability. We worked with the new CEO then to identify the most critical issues being the global organization setup, brand/marketing strategy and digital transformation.
We then worked with the company to develop strategies embracing consumers worldwide using a matrix model across brands and regions to transform the company into a true global beauty care company from Asia. Over the period of 7 years, the company increased business outside its own country to 60%, helped by double-digit growth in China, EMEA(Europe, the Middle East, Africa) and travel retail with significantly improved digital marketing and sales ratio and the company's stock price has increased by more than 450%.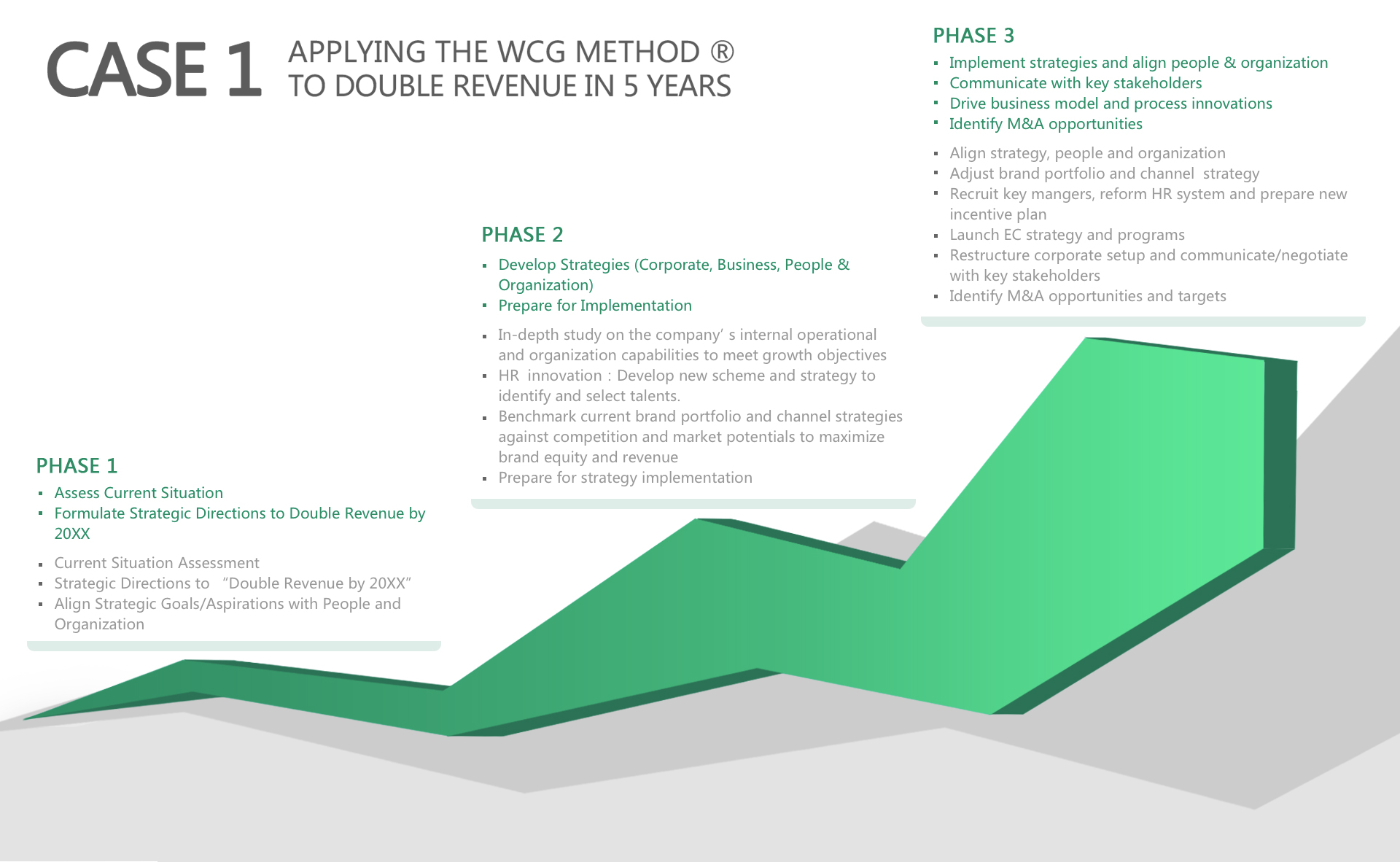 Case 2: Increasing Market Cap by 10 X

i

n 10 Years Applying the WCG Method®
Consumer Electronics and Entertainment Conglomerate
We work with leaders to develop

v

ision that inspires the people and organization to continuously

c

hallenge new heights
For example, we started working with Asia's largest consumer electronics and entertainment conglomerate when the company had suffered declining sales and billions dollars of losses. We worked with the CEO and top management then to identify the most critical issues being the lack of unified group vision that inspires the employees and and wow factors that create consumer enthusiasm and loyalty.
We then worked with the conglomerate's top management and executive team to revive the pride in what they do, to build the "One Company" spirit and to streamline poorer performing divisions like mobile. We also helped the top management build alliance partners across the borders and negotiate with key overseas stakeholders including JV (Joint Venture) partners. We also advised the company to work with foreign government regulators to obtain approval timely for large cross-border M&A transactions despite political tensions among concerned governments.
Over the period of 10 years, the company has achieved significant business growth (15% CAGR) and the company's stock price has increased by more than 10 times.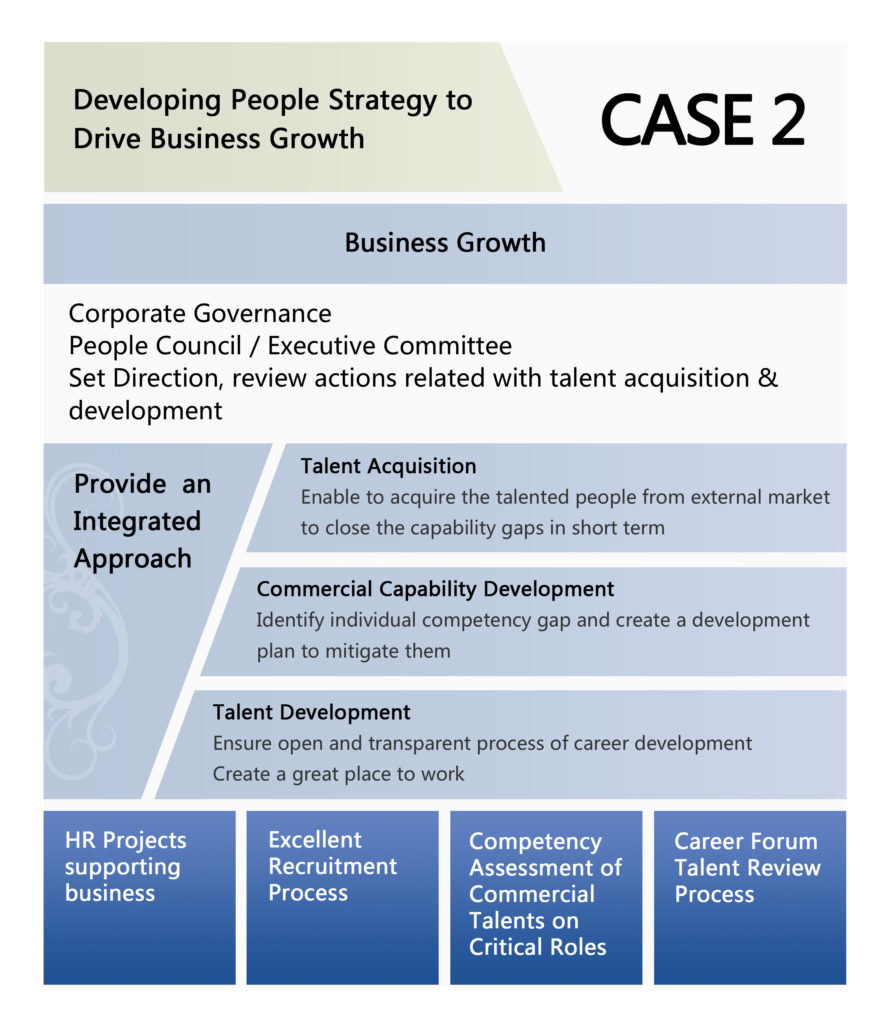 Case 3: We help companies

d

evelop both market

a

nd non-market strategies to

g

ain sustainable competitive

a

dvantages
Today's multinational companies are increasingly affected by government policy (i.e. export control and foreign investment restriction), changing regulations (i.e. anti-trust approval for large M&A transactions), activist pressure (i.e. China's 3.15 Consumer Day), and media scrutiny – anywhere in the world and often instantaneously.
In addition to market strategies that drive revenue and profits, we help companies develop non-market strategies that focus on building relationships with government, regulators, civil society and media to gain soft power and influence and use them to their competitive advantage.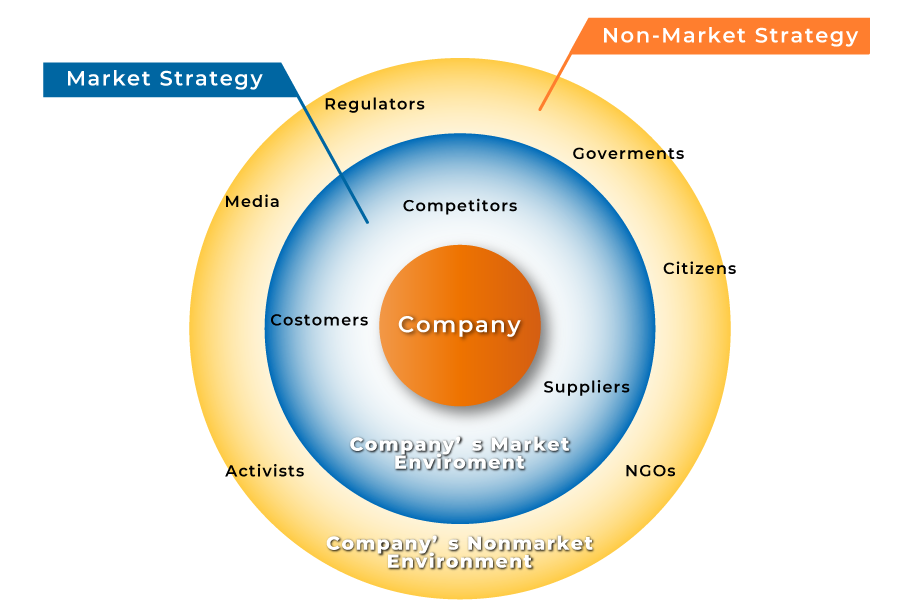 We work with CEO and board

t

o address the

u

nprecedented number of

g

lobal uncertainties,

c

risis and disruptions such as:
Geopolitical risks (i.e. the escalating US-China tensions) significantly impacting on businesses in most sectors

Disruptive technologies making biz model obsolete overnight and new competitors emerging from unknown spaces

Global warming and pandemic crisis such as COVID occurring more frequently
All of these challenges make CEO and management overwhelmed and we work with them to formulate strategies involving the board and engaging stakeholders along all phases of the strategic process.
Case 4: Becoming the Fastest

G

rowing Pharma Company

i

n China
Leading Pharmaceutical Company
We work with executive team to

c

raft detailed scenarios and
scripts and coach the team to execute the strategies to ensure

s

uccesses
Corporate value can only be enhanced if the right strategies are combined with effective execution. We help organizations realize their goals by working with them at all stages, from strategy formulation to execution.
We make sure that each step is efficient and effective, including communication and negotiation strategies, and coach the client team to build their competencies to undertake future initiatives. Throughout our process, we bring world-class standards to maximize corporate value.
For example, we worked with Asia's largest Pharmaceutical Company to restructure its loss-making overseas business entities and solve various legacy issues with the key stakeholders unsolved for over 7 years despite engaging well-known consulting firm and investment bank.
Within 6 months, we worked with the CEO/CSO to successfully restructure the overseas subsidiaries by negotiating with the key stakeholders including multiple meetings between the company's global HQ CEO and China's FDA head/commissioner. We also helped the company obtained Drug Distribution Permit (DDP) which had not been issued to foreign companies for nearly a decade, and helped the company to establish a new holdings company.
As a result, the company's China business grew 6 times in 3 years and had been regarded as the highest growth pharmaceutical company in China by IMS Health.
Cross-Border
M

&A Advisory

One Stop Service Covering Strategies, Execution, Regulatory Approval and Integration to Increase Corporate Value
Case 5: Obtaining

A

nti-Trust Approval for

$

5 Billion

C

ross-Border M&A

T

ransaction
Leading Professional Service Company
We helped one of Asia's largest professional service companies with $20 Billion revenue and over 35,000 professionals to get anti-trust approval from the Chinese government authorities for its $5 Billion acquisition (cross-border M&A) of an European company when it struggled from getting approval and faced the risk of lawsuit from shareholders and of losing significant business opportunities as a result of prolonged uncertainties among clients and employees due to the rising political tensions between the concerned countries and major competitor's interference.
We worked with the CEO/COO to set effective strategy and process among various internal departments, law firms and investment bank to ensure speedy and accurate responses to authorities. We lobbied the 3 key ministries responsible for anti-trust approval and obtained the approval by the deadline set by shareholders.
This timely approval has avoided lawsuit from shareholders and earned trust from its clients and regained confidence among its employees. As a result, the company's overseas revenue has increased to 60% from 10% in 5 years.