Our Achievements in Numbers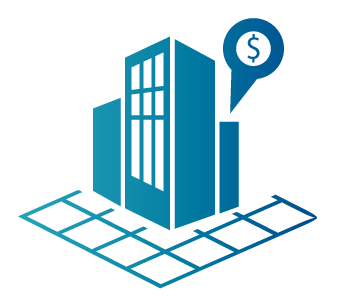 Combined Market Cap of our client/partnership companies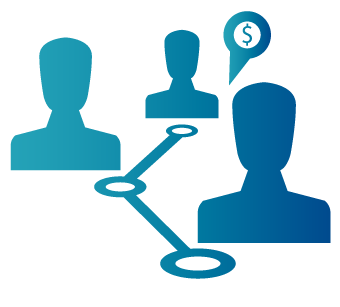 Combined Revenue of our client/partnership companies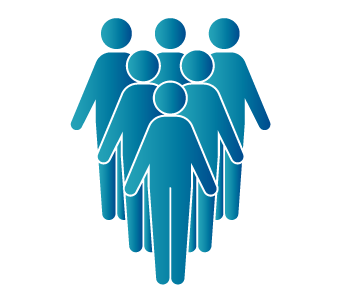 Combined Number of Employees of our client/partnership companies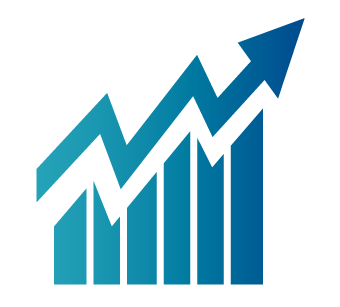 of our client/partnership companies have increased their market capitalization by 5-10 X in 5-10 years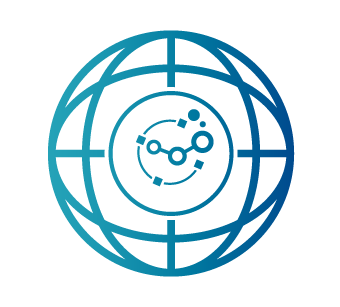 of our client/partnership companies have increased their overseas revenue % from 10% to 60% within 5 years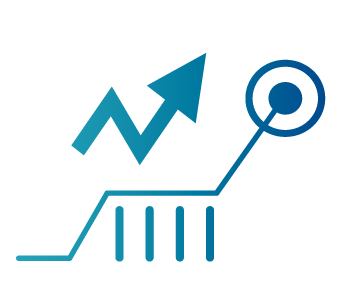 of our client/partnership companies have more than doubled their overseas revenue in 3-5 years
Acting as a trusted partner to the CEO and the top management team, WCG helps solve the most critical and challenging problems for organizations in China and Asia.
We work with top executives who are committed to making game-changing improvements in their organizations, and who embrace new paradigms and innovative approaches that can help them create new strategic value.
We advise C-level executives at global Fortune 500 companies, emerging Asian multinationals, governments, NGOs and NPOs to help become world-class organizations that can execute their visions of a better tomorrow.
What We Do
Co-Creating Globally Admired Companies with Sustainable Advantages from Asia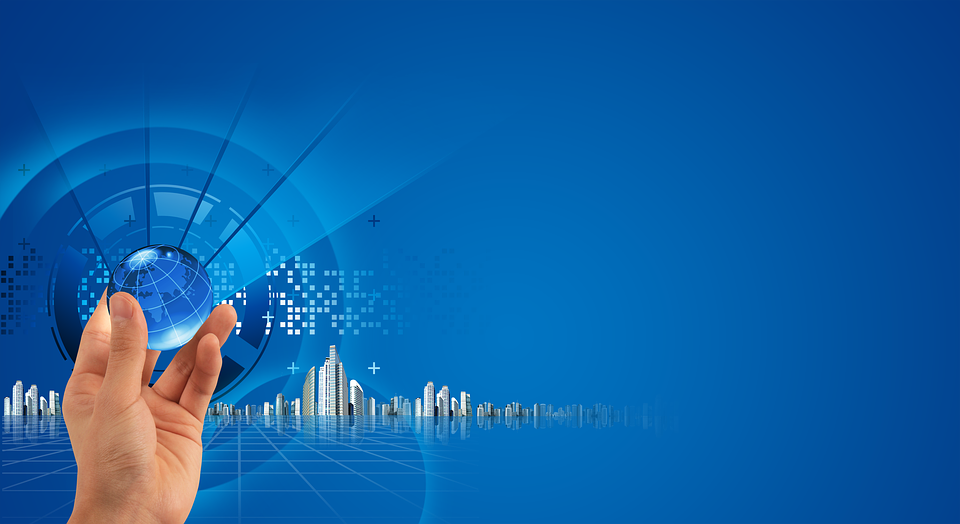 Global Management
Advisory
Focus: CEO, Board and C-Level at Fortune 500 Companies, Emerging Asian Multinationals
Expertise: Corporate Strategy, Stakeholder Strategy, People & Organization Strategy, Risk & Crisis Management, Brand & Marketing Strategy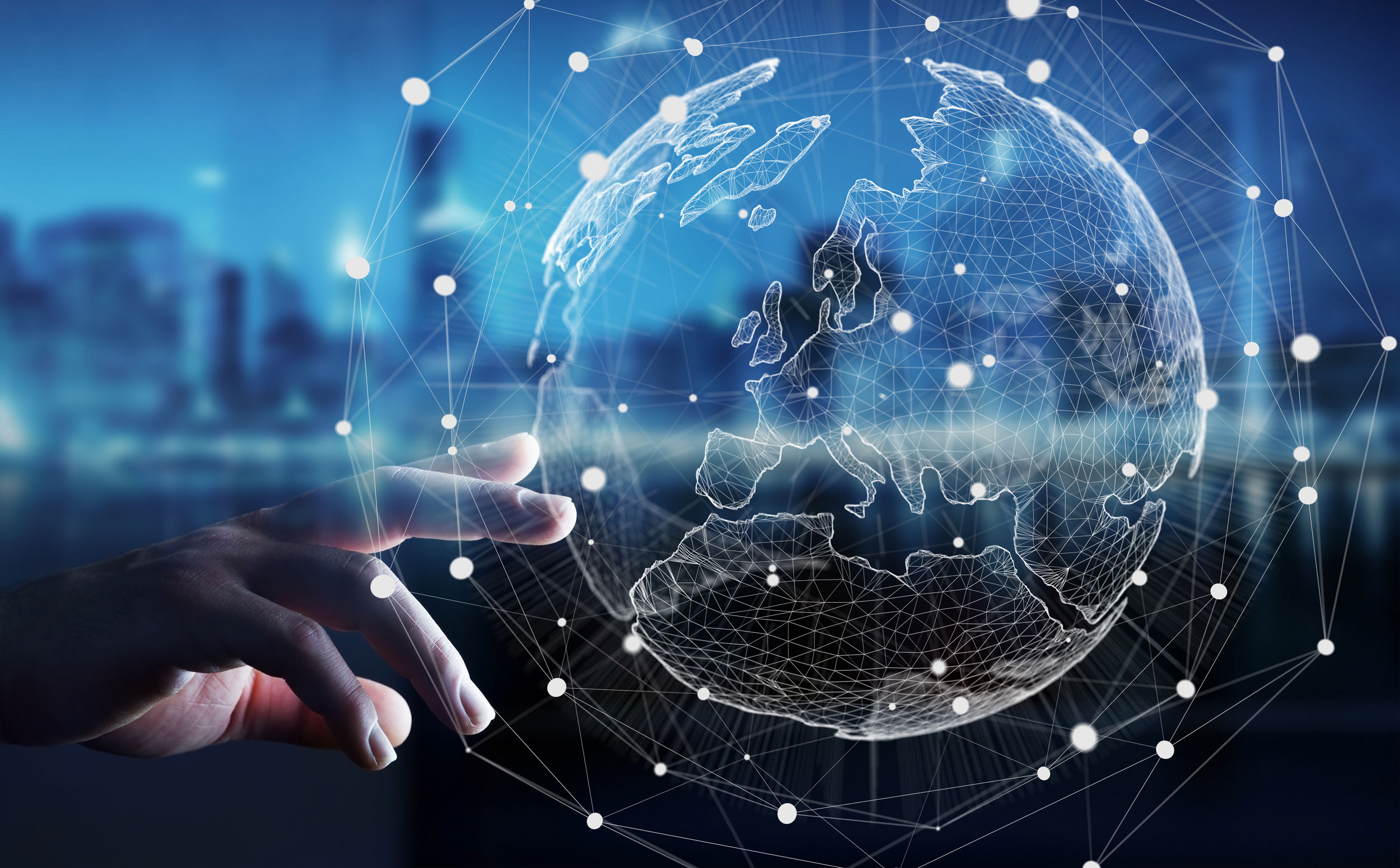 Global Investment
CVC | Global Expansion
Industry Focus: technologies, healthcare, luxury goods, consumer products, professional services, e-commerce, logistic, retail
Geographic Focus: China, Japan, Asia, America, Europe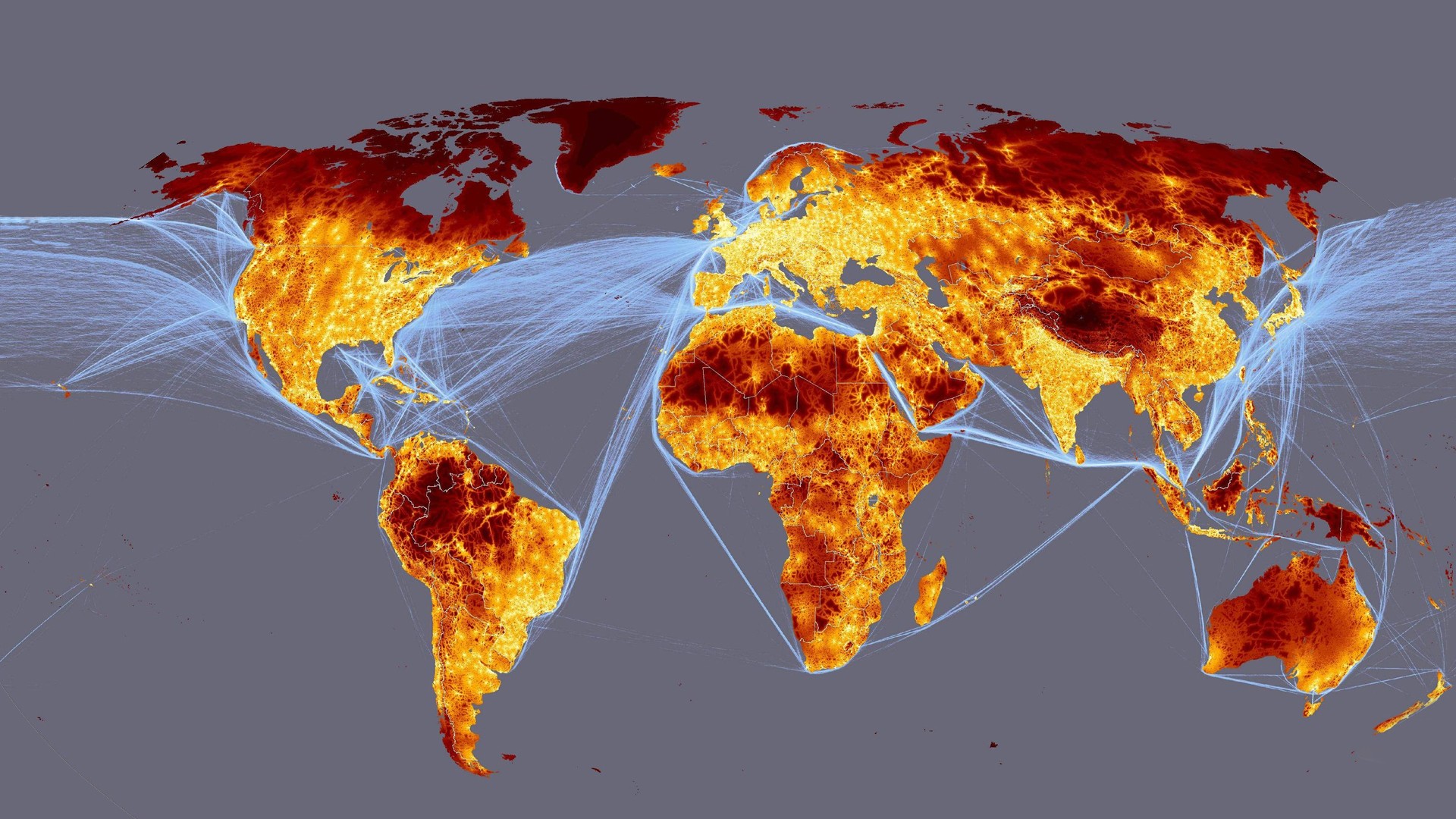 Team: seasoned global business builders, corporate leaders, cross-border investors, industry experts and startup founders
Offerings: One-Stop Service Covering Strategy, Execution, Regulatory Approval and PMI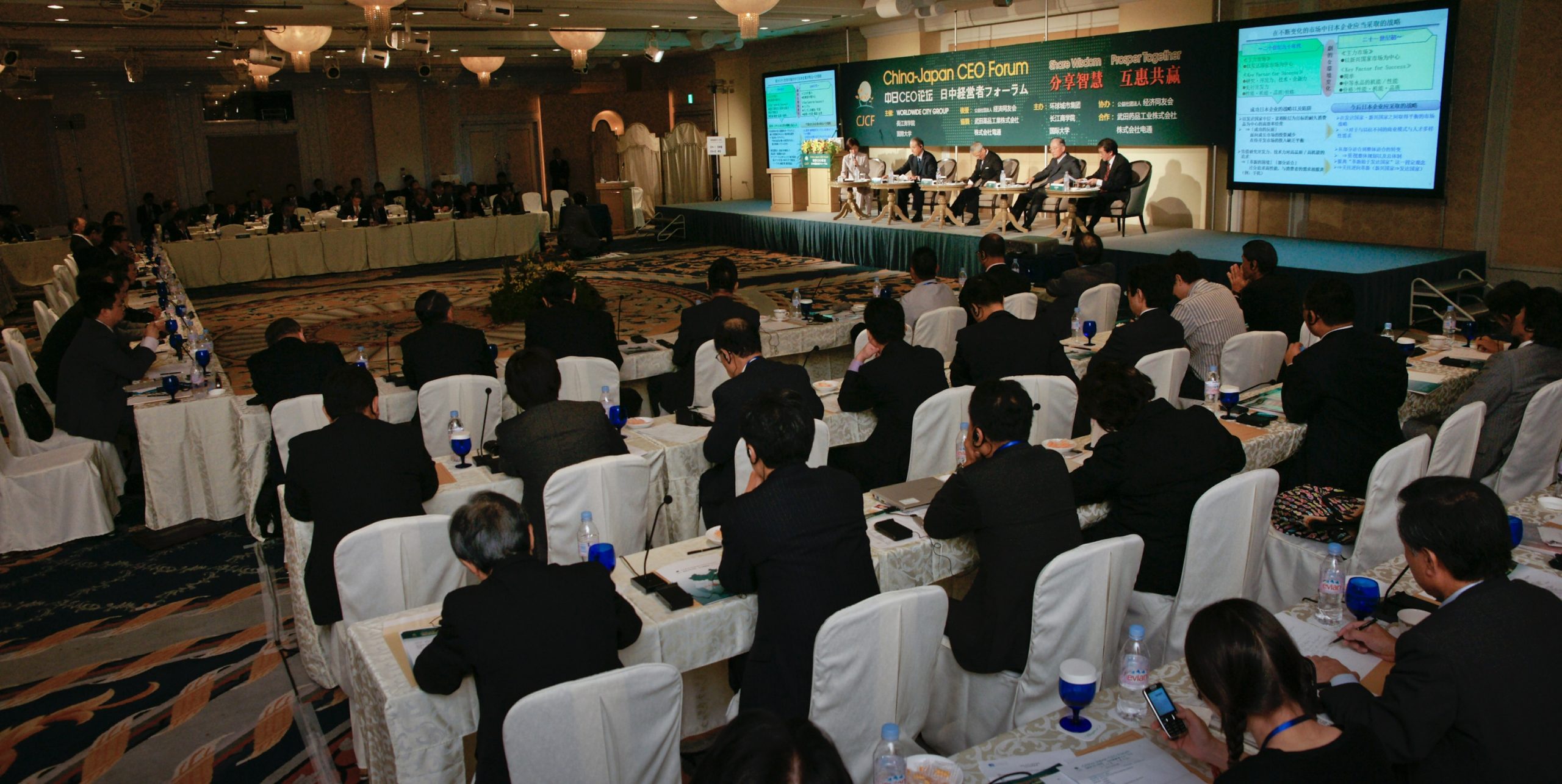 Leadership Community

B

uilding
NPO | SDG |

S

ocial Contribution
Achievement: Founded China-Japan CEO Forum and World Leaders Center
Focus: Fostering Leaders who can lead in uncertain and challenging times with sound management philosophies
Our Business
WCG Flexible Business and Partnership Model Maximizing Corporate Value and Social Impact
One approach does not fit all. We choose the most appropriate business and partnership model to help our business partners and clients maximize corporate value and social impact. Our role may range from advisor to alliance partner or co-investor, and can include management participation when needed.
In all situations, our goal is to help build world-class organizations by strengthening leadership, structure and processes so that strategic visions become reality and corporate value and social impact maximized.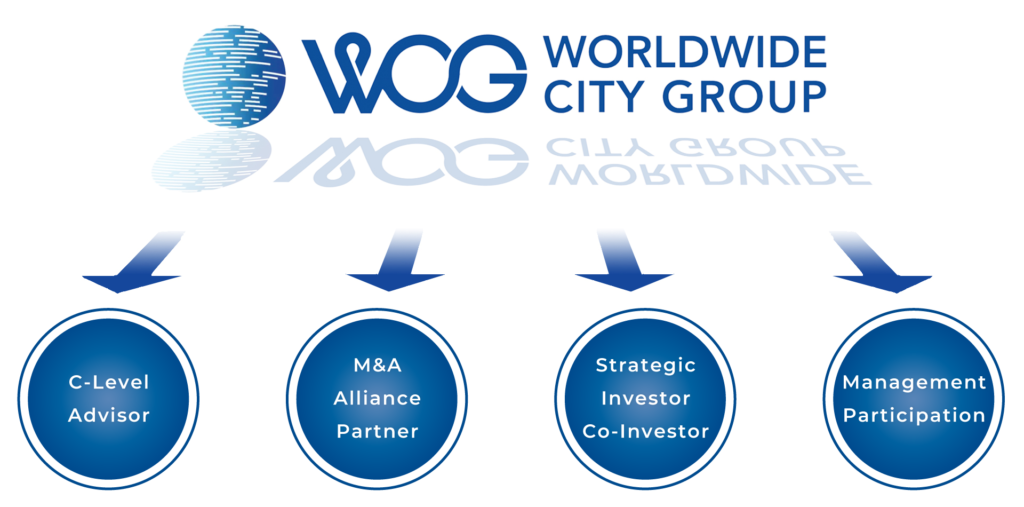 Global Management
A

dvisory Offerings

Helping Global Companies Localize in

A

sia and Asian Companies

B

ecome Globally Admired
Offerings on Helping Global Companies Localize in China and Asia
Advising CEO and Board Member on most critical and challenging issues to maximize corporate value and social impact

Developing Corporate Strategy and Business Strategy to drive growth, localization and innovation

Building sound Corporate Governance system to ensure sustainable competitive advantages and manage risks

Developing People and Organization Strategy and support Organization Transformation process to ensure success

Formulating M&A and Alliance strategy, assessing candidates, conducting Due Diligence and Pre-Merger Evaluation and supporting Post-Merger Integration and Joint Venture Management

Co-Investing with CVC (corporate venture capital) in promising ventures and startups to drive innovation and ensure successful exit/integration

Developing Stakeholder strategy and supporting relationship-building with government, NGO, media, business partner, etc.

Developing Brand and Marketing strategy, framework, people and process to drive growth and build sustainable competitive advantages

Co-Creating New Business (I.e. New business model, consortium, royalty) to drive growth and maximize corporate value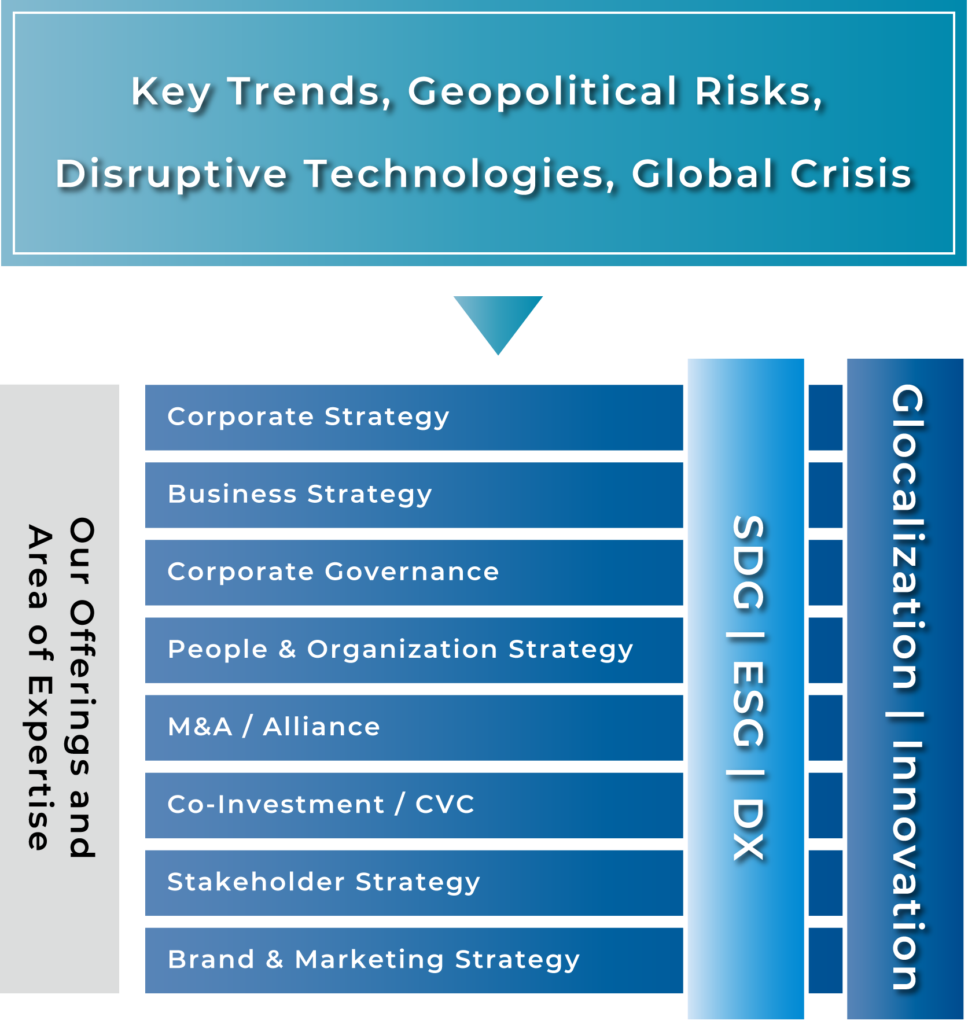 Offerings on Helping Asian

C

ompanies Become Globally

A

dmired
i

n America

a

nd Europe
Developing/assessing/refining international growth strategies and building execution capabilities
Advising CEO and Board Member on most critical and challenging issues to maximize corporate value and social impact
Building Leadership development strategy and process, especially expat leadership development process overseas
Building an internal corporate strategy capability to enable effective overseas business operations (i.e. including companywide strategy, business unit growth strategy and support capability)
Overseas M&A (strategy-driven target screen/selection criteria, target assessment, post-merger integration, M&A process development for serial acquirers)
International Alliances (strategy-driven partner screen/selection criteria, partner assessment, alliance relationship management)
Innovation: Developing radical new products and services (blue ocean strategy process, design thinking); business model innovation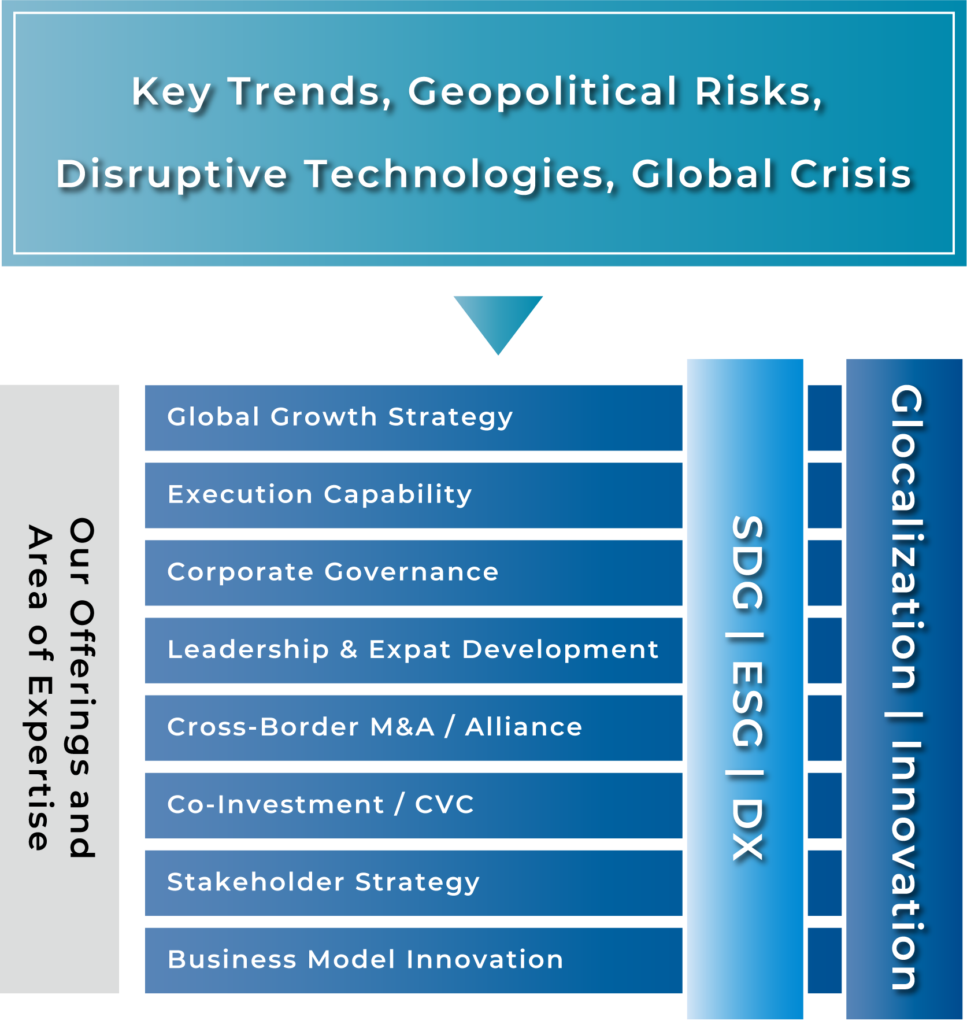 Our Methodology
Building Globally Admired Companies and Organizations from Asia
1.We work with top management to identify critical issues and select key people to address the issues applying our unique methodologies
2.We work with leaders to develop vision that inspires the people and organization to continuously challenge new heights
3.We help companies develop both market and non-market strategies to gain sustainable competitive advantages
4.We work with CEO and board to address unprecedented number of global uncertainties, crisis and disruptions that organizations face today
5.We work with executive team to craft detailed scenarios and scripts to execute the strategies to ensure successes
Cross-Border M&A Advisory
One Stop Service Covering Strategies, Execution, Regulatory Approval and Integration to Increase Corporate Value
At WCG, we are a team of seasoned global business builders, corporate leaders, cross-border investors, industry experts and startup founders who understand global growth and complexities. We work with partner and client companies to develop cross-border M&A Strategies from the perspective of optimizing overall business and maximizing corporate value. Together, we execute M&A transaction including negotiation and regulatory approval and support post-merger integration (PMI).
Pre-M&A Support (Strategy, Search, Evaluation, Approach)
We design M&A strategy and approach through careful examining the company's companywide strategy, competitive landscape, corporate culture and strategic options. We then define the criteria for searching M&A candidates and use various sources to create a broad-ranging long list. We narrow the list by gathering information and analyzing the listed firms to evaluate strategic and cultural fit. We then take a well-crafted strategy and approach to initiate contact of the candidate firm.
Transaction Support (Negotiation, Due Diligence, Closing, Regulatory Approval)
We help the corporate person in charge to formulate negotiation strategy and craft detailed scenarios and scripts. We design a Due Diligence (DD) plan in light of the M&A strategy and prepare for consideration of valuation, structure, contracts, and PMI. We support the entire process for key decision-making and deal-closing. Most importantly, we help obtain regulatory approval such as anti-trust/monopoly for large M&A transactions (see Case 5).
Post-Merger Integration (PMI) Services
We start considering PMI during the deal-process stage, including designing a post-merger success vision that all people can share as common destiny. We consider each individual integration measures to achieve synergy across all five PMI domains: strategy, organization, people, processes and systems. We also follow up and provide operational-level support to ensure that any issues are resolved promptly and the intended M&A synergies and benefits can be achieved.
Global Investment &
E

xpansion

Focusing on Where Leading Industries/Companies and Emerging/Disruptive Technologies Meet
At WCG, our primary objective is to build globally admired companies, we work with Fortune 500 companies and leading Asian multinationals to identify emerging/disruptive and strategic technologies that can help facilitate the digital transformation (DX) of their business and maximize their corporate value. We co-invest with Corporate Venture Capital (CVC) in promising start-ups and growth stage firms to drive corporate innovations and to ensure successful integration. Our high value-add lies in our China, Japan and Asia Pacific track records, insights and unparalleled access cultivated through our deep relationships in building cross-border leadership communities and networks in the past decades.
In parallel, we invest in growth stage companies and support their global expansion. We target our investments towards companies that can create shareholder value and at the same time improve the quality of life in a sustainable way. We focus on technologies, healthcare, luxury goods, consumer products, professional services, e-commerce, logistics and retail business innovators that exploit opportunities across industries and geographic boundaries. We help our portfolio companies create new value for their customers by combining our global knowledge, connections and resources with their leading innovations.
Technologies
Healthcare
Luxury goods
Consumer products
Professional Services
E-commerce
Logistics
Retail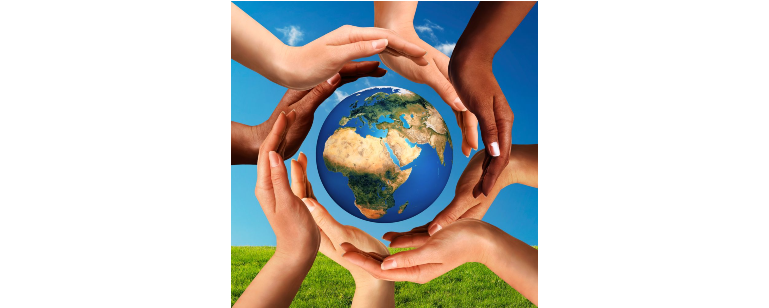 China, Japan, ASEAN, Asia
Emerging Countries
America
Europe
Leadership
C

ommunity Building

|

NPO | SDG |

Promoting Coexistence Spirit and Building Trust based on Timeless Values

Embedded in WCG's DNA is the fundamental belief that business can and should contribute more broadly to society. To this end, we have founded and overseen the rapid development of the annual China-Japan CEO Forum (CJCF) and our World Leaders Center (WLC).
We provide these as a platform to promote management philosophies based on timeless values and to foster world-class leaders who can lead responsibly in challenging times and overcome difficulties together.
China-Japan CEO Forum (CJCF)

China-Japan CEO Forum (CJCF)
-

Sharing Wisdom and Prospering Together
Founded in 2009, the China-Japan CEO Forum (CJCF ) is a non-profit organization (NPO) dedicated to building world-class organizations and leaders by creating a platform for open-minded dialogue to foster trust among influential business people and thought leaders.
CJCF programs are by invitation-only, and all participants are CEOs and chairmen of leading companies in China and Japan. Starting from 2011, CJCF has also extended participation to CEOs and chairmen from leading companies in Asia and beyond in order to deepen dialogue and together develop truly global insights to meet today's pressing economic and environmental challenges.
China-Japan CEO Forum Official Web Site: http://www.cjforum.org

World Leaders Center (WLC)
World Leaders Center (WLC)
-

Fostering World-Class Leaders to Lead Responsibly in
Challenging Times
Founded in 2011, the World Leaders Center (WLC) is a membership-based non-profit organization (NPO) focused on developing global leaders who can make distinctive improvements within their own organizations and at the same time contribute more broadly to society.
WLC fosters leaders who appreciate timeless values that help them both professionally and personally, and who can build trust and collaborative approaches to meet the uncertainties of the global era.
WLC Official Website:wlc.cjforum.org